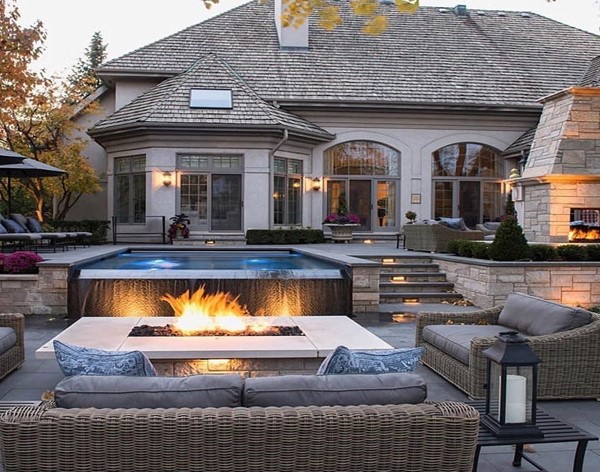 As we lead into the busiest summer season yet, having a fully equipped backyard is essential to attracting more guests to your property. With nice weather coming in, new tourists on the rise, and peak season heading your way, attracting bookings by offering the best amenities will be sure to make up for some of the loss that occurred last year. Whether you are located near the beach, in the mountains, or by the countryside, create a backyard oasis that will set you apart from your competition and have guests choose your place over others. Listed below are some of our favorite backyard amenities for an Airbnb!
Barbeque Grill
Who doesn't love a good summer cookout? A quality, heavy duty barbecue is a key amenity for guests who are looking for a nice backyard oasis as part of their staycation. Great family memories are made by cooking together, so creating an outdoor kitchen experience will be sure to attract more guests to your property.
Firepit
Nothing says summer like sitting by the fire with a blanket and great company. Installing a fire pit creates a beautiful ambiance where guests can picture themselves enjoying the atmosphere. Bonus tip: provide a few smores kits for their arrival and watch those reviews rise!
Outdoor Furniture
This amenity should go without saying, but a nice durable patio set can be used year-round by your guests. This will be a main focal point when guests are viewing pictures of your property, so investing in a comfy set where guests can hang for hours will provide you with a high return on investment. Make sure it comes with covers to protect the furniture when it is not in use so you get the most out of your investment!
String Lights
A great way to spruce up the backyard is by adding string lights around the seating area in your backyard. String lights transform the atmosphere, giving a more luxurious and romantic vibe to the evening. They are cheap, easy to install, and can be purchased pretty much anywhere so add them to the list!
Backyard Games
A great way to get friends and family together is by providing a few games for guests to enjoy. Think of things like, life size Jenga, tic tac toe, or a giant chessboard. You can also include cornhole, ping pong, or a bean bag ladder toss. A few of these can even be DIY projects by using items you already have in your home. The more you are able to create a home away from home experience at your Airbnb, the more likely you are to secure extra bookings!
Pool / Jacuzzi
If weather and space allow, adding a pool or jacuzzi to your property is a sure way to attract more guests to your property. When guests are sifting through listings on Airbnb, the ones that stand out the most are those with great amenities to offer guests. According to a recent survey conducted by Lodgify, 81% of guests say having a swimming pool at an Airbnb is a key factor in their choice to stay.
If space does not allow for a swimming pool, purchasing a jacuzzi will still get you closer to the 81% of guests who are looking for this amenity. Rain, snow, or shine, nothing beats sitting in a hot tub with a beverage on vacation! It is likely to be a heavy investment upfront but is definitely worth your while to separate yourself from competition.
Outdoor Cinema
What better way to stand out from the crowd than creating an outdoor cinema in your backyard? This easy DIY project can be installed in a matter of hours and is something your guests will be over the moon about! It may take a small investment, but the return will definitely be worthwhile as guests scroll through your photos. All you'll need is a projector, screen, and comfy seating with blankets for this exclusive outdoor experience. They'll never want to leave the house!