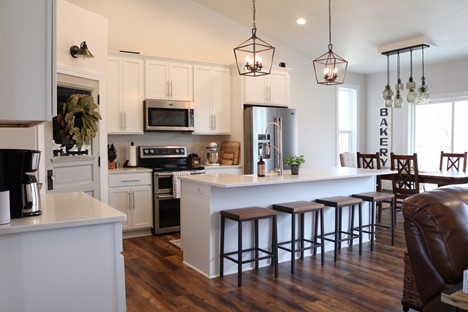 When it comes to stocking the kitchen in your Airbnb, preparing for every and any guest that walks through the door should be your main goal. Because there are a variety of guests who book on Airbnb's platform, preparing your kitchen for the gourmet chefs as well as takeout aficionados will keep your guests happy and reviews high. You don't have to have the most luxurious kitchen with elaborate amenities as long as you have the staple kitchen necessities. Check out the list below for your Airbnb kitchen essentials!
Coffee Maker
First and foremost, every Airbnb should be outfitted with a tea and coffee station. Whether you provide a Keurig, kettle, or Mr. Coffee machine, most guests will be on the hunt for this necessity the first morning in their home away from home. Providing a variety of coffee and tea choices with all the fixings will surely impress your guests for going the extra mile! A little thoughtfulness goes along way when it comes time to leave a review.
Bottle Opener
To celebrate their first night of the trip, one of the first things a guest may be searching for is a wine or bottle opener. Make sure this item is easy to find so they aren't searching endlessly to open their refreshing beverages. This item keeps your guests happy and deters them from using alternative methods to open a bottle which could potentially cause damage to themselves or your property.
Toaster
A true kitchen staple! Whether your guests are popping in a bagel on the go or cooking up a full breakfast, your guests will be thankful it was provided. Purchase a toaster with the crumb tray beneath for an easy cleanup.
Pots and Pans
This should go without saying, but every kitchen should come with a set of pots and pans. Investing in high quality equipment will not only make your guests pleased, but ensure you avoid repeat purchases that put a large dent in your pocket overtime. Including small and large pot as well as a medium sized pan should be plenty for your guests. If you'd like to go the extra mile, including baking pans for the oven would be a great touch! The more choices your guests have, the better.
Silverware and Utensils
The rule of thumb for the amount of silverware needed is to counting how many guests your Airbnb can accommodate. From there, stock your forks, knives, and spoons accordingly with a few extra for good measure. Also, include your basic utensils such as a spatula, whisk, big spoon, and ladle for a pleasant cooking experience.
Measuring Cups
For those of us that are not as gifted at being precise measure experts, providing a full set of measuring cups will allow all your guests to be gourmet chefs in the kitchen without butchering the recipe. Adding a liquid measuring cup also goes a long way when trying out that new desert recipe or made-from-scratch pasta dish.
Dishes
The usual suspects should be found in your kitchen: bowls, cups, plates, and mugs. Having a variety of sizes for each of these would be ideal for your guests. As previously stated with the silverware, provide as many dishes as your Airbnb can accommodate with a few more in case any of them break. This ensures everyone is able to eat at the same time with no issues. Don't forget to throw in a drying rack or mat for the aftermath of their cooking experience. You want their stay to be as seamless as possible, so providing easy cleanup options will be greatly appreciated by your guests.
Oven Mitts
It would be pretty hard to remove you're beautifully baked lasagna from the oven if there was nothing in the kitchen to grab it with! Supplying your guests with a pair of oven mitts or potholders is essential to avoiding unnecessary mishaps in the kitchen. Be sure to store them in a visible location next to the stove and oven so they are within reach of hot items.
Sharp Knives & Cutting boards
A key item that tends to be missed by many hosts are a great pair of knives and cutting board in the kitchen. If you've ever been in the situation where you are trying to cut something and the knife is extremely dull, you know the frustration! Make sure to stock your kitchen with a good quality knife set that comes in plastic sheaths or a knife block to keep them shar overtime Don't forget to sharpen your knives between visits to keep them at their best!
Overall, a fully stocked kitchen makes for a seamless Airbnb experience and gives your guests one more reason to reward you with a higher review. If you are willing to go above and beyond for your guests, leaving a welcome snack or beverage would be a great addition to their stay. Provide a personal touch by asking if they have any preferences and leave a handwritten welcome note thanking them for choosing your property. Trust me, your guests will be very appreciative!